Peru Lima Tapadas Limena Woman Fashion Old CDV Photo Courret Hermanos c1860
Ref. : A01514
Price : SOLD
Size (inches) : about 2.1x3.5, mounted on card 2.3x4.2
Size (cm) : about 5,5x9 mounted on card 6,5x10,5
Date : ca 1860
Place : Peru, Lima
Condition : Albumen print mounted on card, Good condition, trimmed card, light stains & creases.
Shipping

UK
FREE

Europe
FREE

Other countries
including USA/Canada
FREE


Orders over €100.00 are shipped in a flat box by registered post.

For orders below €100.00, registered post is available at a cost of €6.00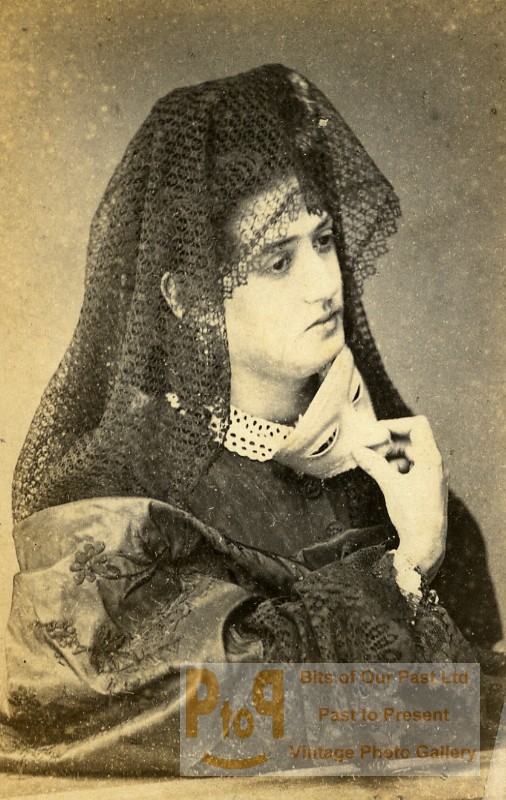 Perou Lima Portrait Féminin Mode Tapadas Limena Ancienne CDV Photo Courret Hermanos 1860


Vintage Courret Hermanos Studio Photo.


Tapada Lima, was the name that was used to designate the woman from Lima, in the viceroyalty of Peru and the first years of the Republic. It is so named because these women, their heads and faces Tapaban with comfortable silk shawls called 'saya and manto', exposing only one eye. Its use began in the sixteenth century (1560) and extended well into the nineteenth century (1860), that is, its use spread over three hundred or three hundred years and not only confined to the Kings, but other major cities in the region. In Lima, the habit remained well into the Republic, when it was relegated by French fashions in vogue.
------------------------------------------------------------------
Tapada limeña, era la denominación que se usaba para designar a la mujer limeña, en la época del virreinato del Perú y de los primeros años de la República. Se le denominó así, debido a que dichas mujeres, tapaban sus cabezas y caras con cómodos mantones de seda que denominaban 'saya y manto', dejando al descubierto tan sólo un ojo. Su uso comenzó a partir del siglo XVI (1560) y se extendió hasta bien entrado el siglo XIX (1860), es decir, su uso se extendió durante tres siglos o trescientos años y no sólo se circunscribió a Los Reyes, sino también a otras ciudades importantes de la región. En Lima, la costumbre permaneció hasta bien entrada la República, cuando fue relegada por las modas francesas en boga.
---------------------------------------------------------
Tapada Lima, est le nom qui a été utilisé pour désigner la femme de Lima, dans la vice-royauté du Pérou et les premières années de la République. Il est ainsi nommé parce que ces femmes, couvraient leurs têtes et leurs visages avec des Tapaban châles en soie confortables appelé «saya et manto», exposant un seul oeil. Son utilisation a commencé au XVIe siècle (1560) et s'est étendue jusqu'au XIXe siècle (1860), son utilisation s'étend sur trois cents ans et ne se limite pas aux rois, mais d'autres les grandes villes de la région. A Lima, l'habitude est restée bien dans la République, avant d'être relégué par la mode française en vogue.

See additional scans below.



Photographer/Credit :
COURRET HERMANOS
Lima. He came to Lima in 1860 to work as a cameraman in the photographic studio of Eugene Maunoury. In 1863 founded the "Photo Central" studio with his brother Aquiles.