Rosine Bloch Mezzo Soprano Opera Singer France Second Empire Old Photo CDV 1868
Ref. : G22129
Price : €50.00
Size (inches) : about 2.2x3.5, mounted on card 2.4x4.1
Date : ca 1868
Place : France, Paris
Condition : Albumen print, Good condition, light creases.

Shipping

UK
FREE

Europe
FREE

Other countries
including USA/Canada
FREE


Orders over €100.00 are shipped in a flat box by registered post.

For orders below €100.00, registered post is available at a cost of €6.00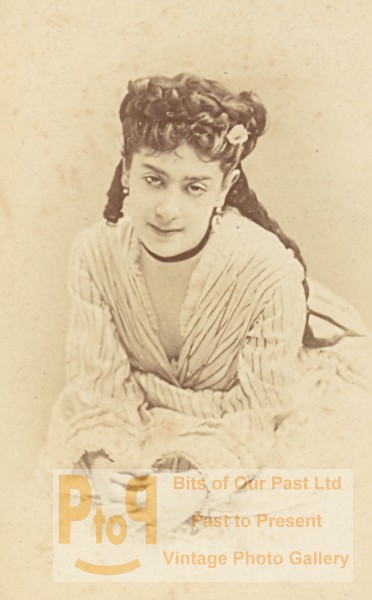 Rosine Bloch Mezzo Soprano Chanteuse Opera Second Empire France Ancienne Photographie CDV 1868


Vintage Disderi Studio Photo,

Rosine Bloch (7 November 1844 - 1 February 1891) was a French operatic mezzo-soprano of Jewish descent who had a successful stage career in Europe between 1865 and 1891. She not only possessed a beautiful, warm, and lyrical voice but was also a remarkably beautiful woman physically. Although most of her career was spent performing at the Opéra in Paris, she also appeared in stages in Belgium, Monaco, and England.

See additional scans below.



Photographer/Credit :
DISDERI
Paris. Photographe de S.M. l'Empereur Boulevard des Italiens Paris, France