7 Aout 1911 Autograph Letter Aviator Modern Hero by Edmond Rostand to de Pontac
Ref. : M16542 NEW
Price : €1200.00
Size (inches) : about 5.4x7.2 - size of the page with handwritten letter.
Size (cm) : : about 13.50x18.00 - size of the page with handwritten letter.
Date : August 7, 1911
Place : France
Condition : Autograph Letter with half enveloppe, good condition, light damages

Shipping

UK
FREE

Europe
FREE

Other countries
including USA/Canada
FREE


Orders over €100.00 are shipped in a flat box by registered post.

For orders below €100.00, registered post is available at a cost of €6.00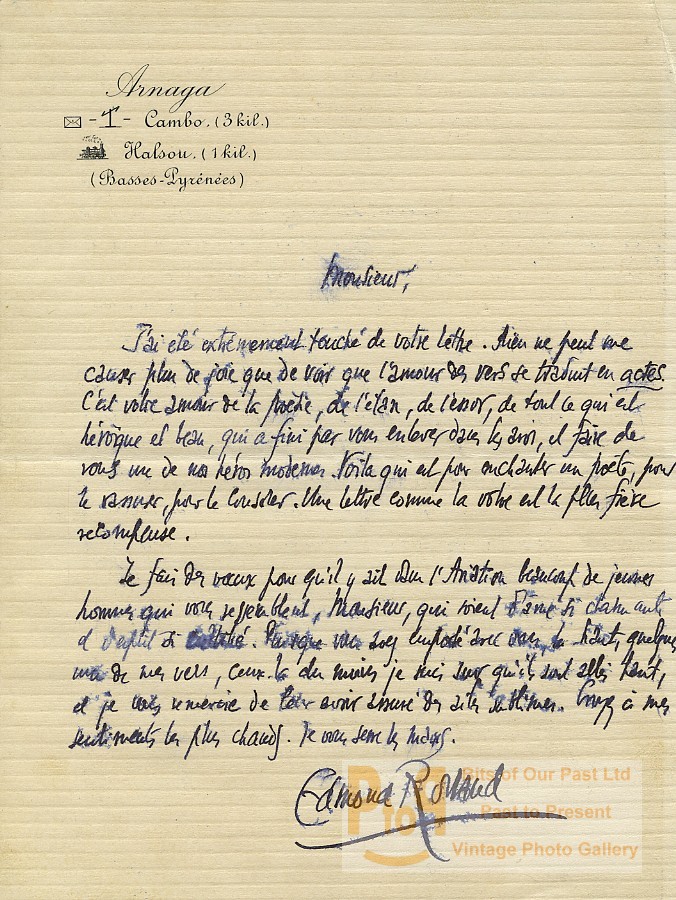 7 Aout 1911 Lettre autographe Aviateur, Héros Moderne d'Edmond Rostand a de Pontac


Autograph Letter 'Aviator, Modern Hero' by Edmond Rostand. (uncommon) Short message handwritten by Arnaud de Pontac on the back explaining the context of this letter.

From the archives of french aviation pioneer Arnaud de Pontac.

Text: Monsieur,
J'ai été extrémemet touché de votre lettre. Rien nepeut me causer plus de joie que de voir que l'amour des vers se traduit en actes. C'est votre amour de la poesie, de l'élan, de l'essor, de tout ce qui est héroique et beau, qui a fini par vous enlever dans les airs, et faire de vous un de nos héros modernes. Voila qui est pour enchanter un poète, pour le rassurer, pour le consoler. Une lettre comme la votre est la plus fière recompense.
Je fais des voeux pour qu'il y est dans l'Aviation beaucoup de jeunes hommes qui vous ressemblent, Monsieur, qui soient d'âmes si ??????? Emporté avec vous, la-haut, quelques uns de mes vers, ceux-la du moins je suis sur qu'ils sont allés haut et je vous remercie de leur avoir assuré des ailes sublimes. Croyez à mes sentiments les plus chauds. Je vous serre les mains. Edmond Rostand

See additional scans below.