Ref. : J00674
Prix : €18
Taille (mm) : 190x260 (7,1/2x10,1/4 inches)
Date : 1984
Publié à : Paris
Etat Livre : Bon
Etat Jaquette :
Reliure : Broché, couverture illustrée, 272 pages, hors-textes

Frais d'envoi

Selon la destination et poids du livre.

Les livres sont facturés et envoyés depuis la France séparément des photos (envoyées depuis l'Angleterre).

Poids non emballé: 1000 g.


Shipping fee depending on weight and buyer's location.

Books are invoiced and shipped from France separately from the photos (shipped from the UK).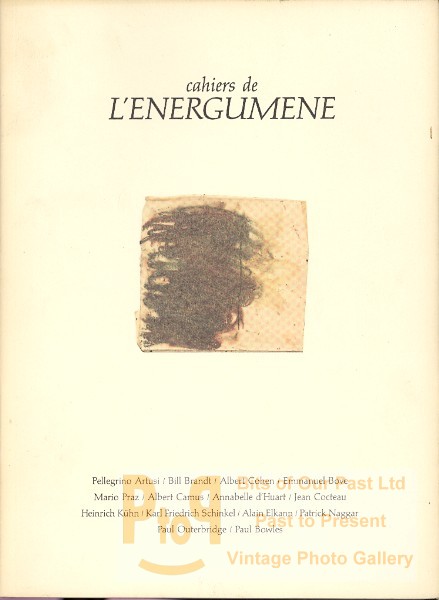 Revue semestrielle des années 1980 mélant littérature, photographie et peinture.
Au menu: Pellegrino Artusi, Bill Brandt, Albert Cohen, Emmanuel Bove, Mario Praz, Albert Camus, Annabelle d'Huart, Jean Cocteau, Heinrich Kühn, Karl Friedrich Schinkel, Alain Elkann, Patrick naggar, Paul Outerbridge, paul Bowles.

Première édition

Autre(s) scan(s) ci dessous.



| | |
| --- | --- |
| Editeur : | Editions Gérard Julien Salvy |