Military Conquest Madagascar Troops Leaving Marseille Old Photo 1895
Ref. : L00020
Price : €200.00
Size (inches) : about 4.6x6.3, mounted on card 9.5x12
Date : April 12, 1895
Place : France, Marseille
Condition : Citrate print mounted on card, Good condition, light stains & creases.

Shipping

UK
FREE

Europe
FREE

Other countries
including USA/Canada
FREE


Orders over €100.00 are shipped in a flat box by registered post.

For orders below €100.00, registered post is available at a cost of €6.00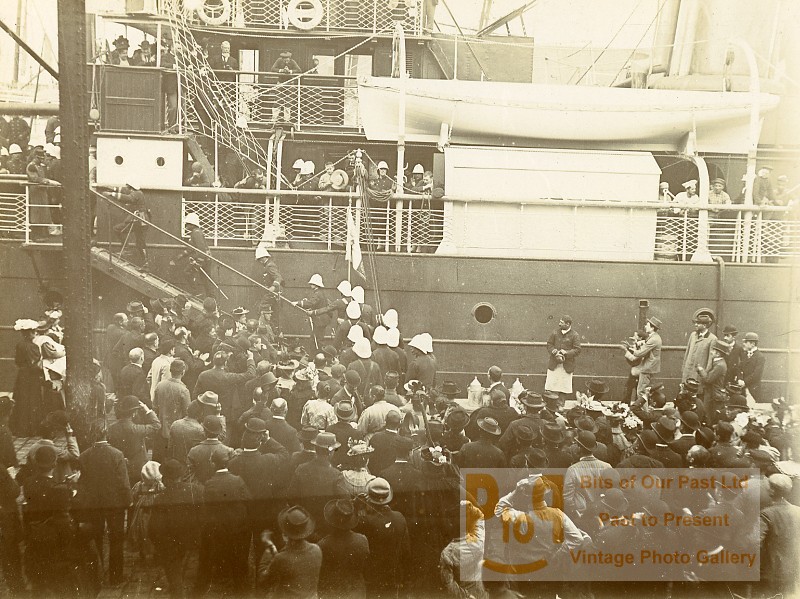 Expedition Militaire Madagascar Départ des Troupes Marseille Ancienne Photo 1895


Vintage anonymous studio Photo. Text written on card: Expedition de Madagascar - - - Départ du 200e Régiment d'Infanterie - Embarquement du Drapeau. (uncommon)

Le 12 avril 1895, le 2e bataillon du 200e régiment d'Infanterie fort de 800 hommes s'embarque sur l' Uruguay des Chargeurs Réunis à destination de Madagascar.
Le corps expéditionnaire, qui débarque à Majunga le 23 avril 1895, est dirigé par le général Duchesne, ancien du Tonkin et d'Algérie et le chef des services de renseignements du corps expéditionnaire est le lieutenant-colonel Léon de Beylié.

Début septembre 1896, le 200e RI, décimé par les fièvres et maladies, n'existe plus en tant que force combattante
-------------------------------------------------------------
On 12 April 1895, the 2nd Battalion of Infantry Regiment 200 e 800 men strong embarks on Uruguay of Chargeurs Réunis to Madagascar.
Expeditionary force that landed in Mahajanga April 23, 1895, led by General Duchesne, formerly Tonkin and Algeria and the head of the intelligence services of the expeditionary force was Lieutenant-Colonel Leon de Beylié.

Early September 1896, the 200th IR, decimated by fevers and diseases, no longer exists as a fighting force

See additional scans below.