Military Conquest Madagascar Return of General Duchesne Marseille Old Photo 1895
Ref. : L00022
Price : €100.00
Size (inches) : about 4.6x6.3, mounted on card 9.5x12
Date : January, 1896
Place : France, Marseille
Condition : Citrate print mounted on card, Good condition, light stains & creases.

Shipping

UK
FREE

Europe
FREE

Other countries
including USA/Canada
FREE


Orders over €100.00 are shipped in a flat box by registered post.

For orders below €100.00, registered post is available at a cost of €6.00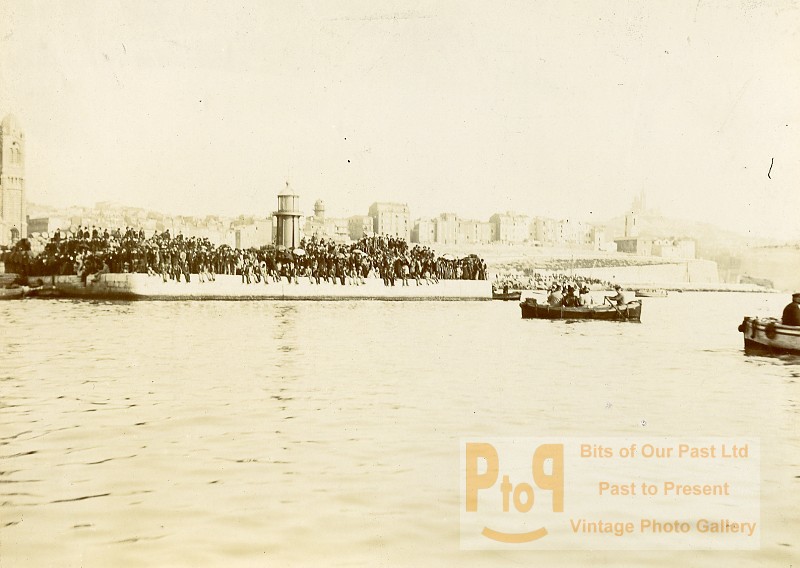 Expedition Militaire Madagascar Retour du general Duchesne Marseille Ancienne Photo 1895


Vintage anonymous studio Photo. Text written on card: Expedition de Madagascar - - - Passe du Port de la Joliette - Le jour de l'arrivée du Général Duchesne.

En 1885, le souverain de Madagascar fut contraint de signer avec la France un traité ambigu : les locaux pensaient qu'il s'agissait d'un simple accord d'amitié, mais les Français considéraient qu'il s'agissait d'un traité de protectorat. L'état de guerre fut notifié et, le 6 mai 1895, le général Duchesne prit la tête de l'expédition de Madagascar et s'empara de Tananarive afin de rétablir l'autorité française. L'année suivante, le Parlement français déclara l'annexion de Madagascar, décrétée colonie française

Général Jacques Charles René Achille DUCHESNE: Le 6/5/95 il prend la tête de l'expédition de Madagascar et s'empare de Tananarive. Retourne en France en janvier 96 pour prendre la tête du 5e CA

-----------------------------------------------------
In 1885, the ruler of Madagascar was forced to sign a treaty with France ambiguous premises thought it was just a friendship agreement, but the French saw it as a treaty protectorate. The state of war and was notified on 6 May 1895, the General Duchesne became the head of the expedition to Madagascar Antananarivo and took to restore French rule. The following year, the French Parliament declared the annexation of Madagascar, a French colony declared

See additional scans below.