Lieutenant Princeteau death July 18, 1911 Extract from the Journal
Ref. : M16541
Price : €75.00
Size (inches) : about 6x8,5
Size (cm) : about 16x2&
Date : July 18, 1911
Place : France
Condition : Newspaper extract glued on paper, good condition, light creases

Shipping

UK
FREE

Europe
FREE

Other countries
including USA/Canada
FREE


Orders over €100.00 are shipped in a flat box by registered post.

For orders below €100.00, registered post is available at a cost of €6.00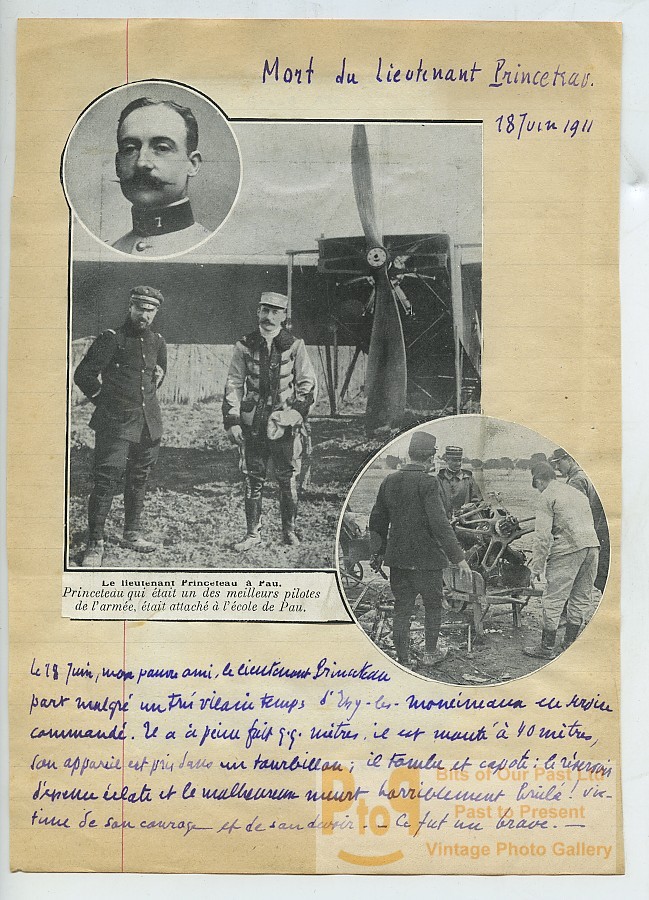 Mort du Lieutenant Princeteau 18 Juillet 1911 Extrait de Journal Texte ecrit de Pontac


Handwritten personal memory of Comte Arnaud de Pontac on the death of his friend Lieutenant Princeteau. From the archives of french aviation pioneer Arnaud de Pontac.

Text written by de Pontac:
Le 18 juin, mon pauvre ami, le Lieutenant Princeteau part malgré un très vilain temps d'Issy les Moulineaux en service commandé. Il a à peine fait quelques mètres, il est moné à 40 mètres, son appareil est pris dans un tourbillon; il tombe et capote, le reservoir d'essence éclate et le malheureux meurt horriblement brulé ! Victime de son courage et de son devoir. - Ce fut un brave. -

On the back is a newspaper clipping about Andre Beaumont (Jean Conneau).
------------------------------------------------------------

Pierre Princeteau, né Martial Joseph Paul Pierre Princeteau à Bordeaux le 20 avril 1874 et mort dans un accident aérien le 18 juin 1911 à Issy-les-Moulineaux, lors de la première étape Paris-Liège de la course aérienne baptisée 'Circuit Européen' est un officier, lieutenant aviateur, et pionnier de l'aviation française. Brevet de l'Aeroclub de France n. 331 en date du 23 novembre 1910 - Brevet de pilote militaire n. 6

See additional scans below.