ALS Autograph to aviator Sadi Lecointe arrival of Lindbergh at Le Bourget 1927
Ref. : M16547 NEW
Price : €75.00
Size (inches) : about 7x10 on 8.4x11.88 mount (Paper) - mount is probably modern
Size (cm) : : about 17.50x25.00 on 21.00x29.70 mount (Paper) - mount is probably modern
Date : August 7, 1927
Place : France
Condition : Signed autograph letter stuck to yellow paper, good condition, light creases

Shipping

UK
FREE

Europe
FREE

Other countries
including USA/Canada
FREE


Orders over €100.00 are shipped in a flat box by registered post.

For orders below €100.00, registered post is available at a cost of €6.00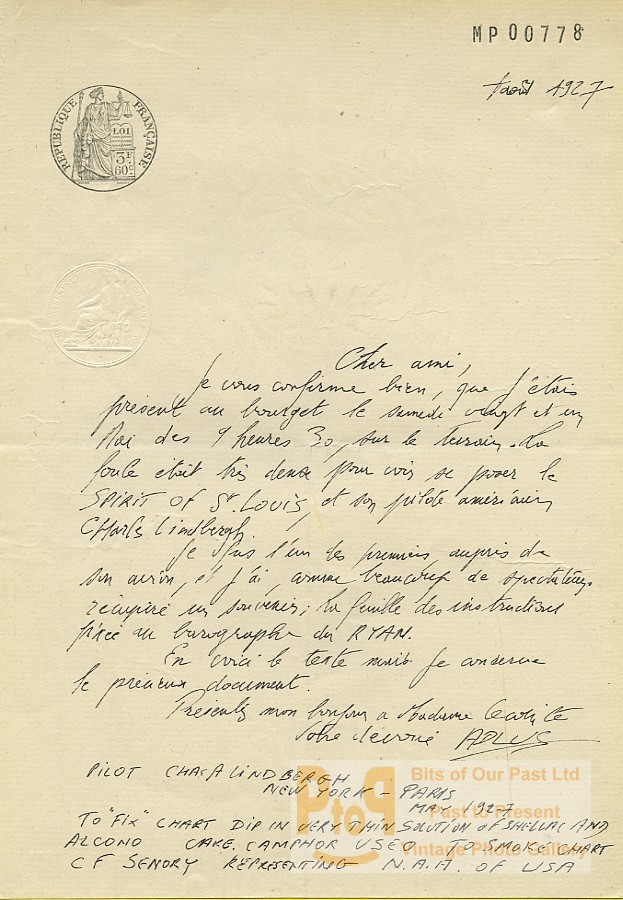 Adlus Lettre Autographe a l'aviateur Sadi Lecointe sur l'arrivée de Lindbergh au Bourget en 1927


Signed autograph letter from Adlus to Aviator Joseph Sadi Lecointe on official paper of French Republic (dry stamp) on the arrival of Charles Lindbergh at Le Bourget, May 21, 1927.
From the archives of french aviation pioneer Arnaud de Pontac.

Text: Cher ami,
Je vous confirme bien, que j'étais présent au Bourget le samedi vingt et un mai des 9 heures 30, sur le terrain la foule était très dense pour voir se poser le SPIRIT OF St LOUIS, et son pilote américain Charles Lindbergh.
Je fus l'un des premiers auprés de son avion, et j'ai, comme beaucoup de spectateurs récupéré un souvenir; La feuille des instructions fixée au barographe du Ryan.
En voici le texte mais je conserve le précieux document.
Présentez mon bonjour à Madame Lecointe.
Votre dévoué Adlus

Pilot Charles Lindbergh
New York - Paris
May 1927
To 'Fix' charrt dip in very thin solution of Shellar and Alcono cake camphor useo to smoke chart C.F. Senory representing N.A.A. of USA

--------------------------------------------------------------
Joseph Sadi-Lecointe, né le 11 juillet 1891 à Saint-Germain-sur-Bresle (Somme) et mort le 15 juillet 1944 à Paris, est un aviateur français qui a établi plusieurs records du monde d'altitude et de vitesse et un Résistant.

See additional scans below.