Baronne Mathilde Von Guaita Frankfurt Signed Photo 1860
Ref. : G20733
Price : SOLD
Size (inches) : 2,2x3,2 mounted on card 2,5x3,5
Size (cm) :
Date : ca 1860
Place : Germany, Frankfurt
Condition : Albumen print, Good condition, light creases.
Shipping

UK
FREE

Europe
FREE

Other countries
including USA/Canada
FREE


Orders over €100.00 are shipped in a flat box by registered post.

For orders below €100.00, registered post is available at a cost of €6.00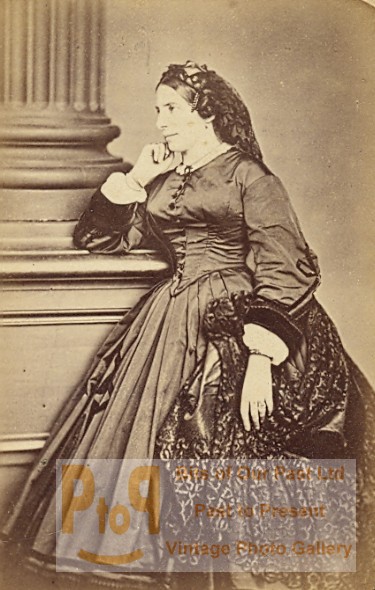 Baronne Mathilde Von Guaita Protestantisme Frankfurt Ancienne CDV Photo Autographe 1860



Vintage Weisbrod studio photo.

- Autographed on CDV: Mathilde de Guaita de Francfort S/M 13 juin 1865

Biographical sketch:
Tres ancienne famille issue de la vallée de Menaggio en Italie, installée à Francfort sur Main et propriètaire des verreries de St Quirin.

Provenance: Collection Manuel Matamoros

- Matamoros Manuel García (Lepe, 1834 - Lausanne (Switzerland), 1866) was a Spanish military and religious.
Although born in Lepe, he lived most of his life in Malaga. He was convicted and later exiled for the dissemination of Protestantism in Spain. He is considered the founder of contemporary Spanish Protestantism and has been given within the evangelical comity, the designation of Champion and Martyr of Religious Freedom in Spain.

- Manuel García Matamoros (Lepe, 1834 - Lausanne (Suisse), 1866) était un militaire espagnol et religieux.
Bien que né à Lepe, il a vécu la majeure partie de sa vie à Malaga. Il a été condamné, puis exilé pour la diffusion du protestantisme en Espagne. Il est considéré comme le fondateur du protestantisme contemporain espagnol et a été surnommé dans la communauté évangélique Champion et martyr de la liberté religieuse en Espagne.

- Manuel Matamoros García (Lepe, 1834 - Lausanna (Suiza), 1866) fue un militar y religioso español.
Aunque nació en Lepe vivió gran parte de su vida en Málaga. Fue condenado y posteriormente desterrado por la divulgación del protestantismo en España. Se le considera fundador del protestantismo español contemporáneo, y se le ha dado, dentro de la comunidad evangélica, el apelativo de Campeón y Mártir de la Libertad Religiosa en España.

See additional scans below.



Photographer/Credit :
WEISBROD
Frankfurt