Flying Pioneers: Pre-WWI Aviation

Our July 2007 exhibition presents a selection of 40 pre World War I photos from our large inventory of aviation photographs.
The main focus is on french pioneers, especially Louis Bleriot, but we also included a few american and other foreign aviators.

We reserve the Russian aviation photos from the Charles Gilbert archive for a separate exhibition at a later date.

The exhibition has 7 sections along with a list of pilots with license numbers:




Start





A new exhibition is added every 2 to 3 months, depending on our inventory and new acquisitions.
The subjects we plan to showcase next are a special selection of circa 1930 press photographs and pre World War I Russian Aviation.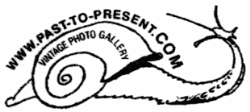 © 1998-2022 by Laurent Brocard - Bits of Our Past Ltd - http://www.past-to-present.com